How to write understandable coherent paragraphs for an essay
How to write understandable coherent paragraphs for an essay
Paragraphs not only improve the physical appearance of a piece of writing, but they also make it easier for a reader to follow the ideas presented as they read. They also attach a sense of order to the essay. This guide provides both students and writers with important insights to structuring paragraphs as they write their papers.
 understandable coherent paragraphs for an essay
A paragraph, therefore, is a group of related sentences written successively for the purpose of describing a topic or a given idea. To be able to achieve a good flowing essay, it is important to keep the following tips concerning paragraphs in mind:
1. Each paragraph should present either a single elaborated idea or many ideas that are simply mentioned but not greatly expounded on
2. Each paragraph written in the essay should maintain the objective of the essay. This means that the content of each paragraph should be in agreement with the thesis statement of the essay.
3. Despite a paragraph being a group of sentences, it should be short, precise and informative. This is because long paragraphs have proven to be exhausting for readers to read.
understandable coherent paragraphs for an essay
A paragraph can either be written in block or slanted method. In block method, all words including those in the first line are aligned to the left. However, as you move on to the next paragraph, you are expected to skip a line to separate the 2 paragraphs. On the other hand, for slant format paragraphs, the first line is indented to an inch into the line and no line is left to separate 2 successive paragraphs.
 understandable coherent paragraphs for an essay
Elements of a paragraph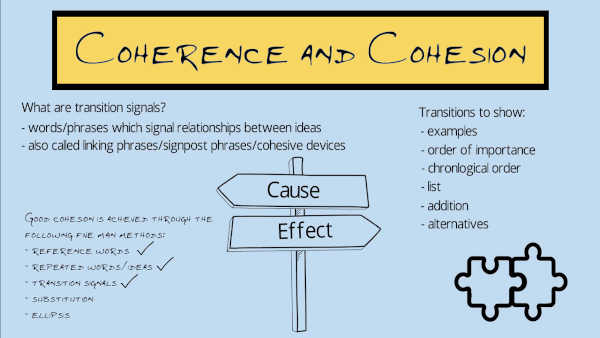 Coherence
It is important of each paragraph to have cohesion and coherence. Cohesion is correct grammatical and stylistic connection of sentences making up the paragraph at the sentence level whereas coherence is correct connection of ideas between paragraphs. These effects are achieved by creating both vertical and logical bridges.
Logical bridges are created by discussing just a single idea within the paragraph, as you move from one sentence to another, whereas vertical bridges are created by repeating multiple keywords in multiple sentences especially by making use of synonyms, pronouns and transition words.
Flow from one sentence to the next should be smooth and logical so as to achieve paragraph unity. Without coherence, it would be difficult for readers to read an essay as it would bring about confusion.
 understandable coherent paragraphs for an essay
Unity
Each paragraph should expound on its own idea hence should begin with a single focus till the end without wandering within any other different ideas.
 understandable coherent paragraphs for an essay
Topic sentence
Each paragraph should start with a topic sentence which is meant to provide the reader with a general idea of what is to be elaborated within the paragraph. The topic sentence may be the very first statement in the paragraph or may occur at any point within the paragraph. It is also not necessary to have a topic sentence for each and every paragraph as long as you can easily summarize what it actually is about.
 understandable coherent paragraphs for an essay
Adequate development
The sentences following the topic sentence should expound in depth about the idea being explored. They should provide facts, cite data, give examples, and evaluate causes, reasons and anecdote to be used the writer to provide elaborate information concerning the idea under discussion in this paragraph.
To ensure that the paragraph is fully developed, you can define some terms in the paragraph, compare and contrast, examine effects and consequences, analyze and describe the topic and offer time segments of an event.
Length of a paragraph.
 understandable coherent paragraphs for an essay
A paragraph should neither be too short (3 or less sentences), as it may be considered to provide less than enough information nor too long (more than 10 sentences) as it gets tiring and boring to read as it may be considered to contain unnecessary information. The ideal number of sentences to make use of to create a paragraph is between 5 and 7 sentences.
 understandable coherent paragraphs for an essay
Appropriate time to start a new paragraph
It is most appropriate to start a new paragraph when
• Discussing a new idea. If you have an extended idea spanning multiple paragraphs, each point within the idea should be put in its own paragraph.
• Demonstrating contrast in ideas
• Ending an introduction or begin the conclusion part. An introduction can have multiple paragraphs depending on their content, length and purpose of the writer.
• You establish that the reader might need to catch a pause. This serves as a break making the piece of writing more readable. Make sure to create a break when paragraphs become too long or complex.
 understandable coherent paragraphs for an essay
Transitions and signposts
These are internal aids consisting of several sentences indicating what will be covered in an article. They help transit from one idea to the other. They can be used at the end of a paragraph to help paragraphs flow one into the next
Ways to ensure coherent writing
1. By making use of simple translations to introduce a new paragraph or sentence, for instance, in addition to, moreover, on the contrary, in other words and at the same time among others
2. By ensuring that there is a flow in succeeding sentences by varying their length as well as their structure and using correct punctuations as well as a broader word choice
3. By repeating key words
4. By repeating sentence structure
5. By maintain thematic consistency
6. By starting a paragraph or sentence in a manner that it hints at the content of the next sentence.
7. By making use of synonyms, hyponyms and super ordinates which create variety in writing which helps to avoid monotony.
8. By making use of references such a pronouns(he, she, me, it), possessive nouns(your, their, my) and determiners(this, those, these)
9. By substitution whereby previously mentioned words are replaced by using a different word to refer to them. For instance, "I ate fish today, she did the same."
10. By making use of umbrella nouns which summarize many words into one
11. By making use of conjunctions to list ideas. Such conjunctions include next, first and lastly among others
12. By ellipsis whereby words whose meaning has been implied in the essay are eliminated
 understandable coherent paragraphs for an essay
Welcome to academic-answers.net
Our professional essay writing service is
renowned for being the best there is.
Our Commitment:
*100% Original work, Authentic papers, 0% plagiarism
*Affordable prices and great discounts.
*24/7 Support
*Free revisions
*Quality work within your set deadline.
Whatsapp: +1(951)901-6064
https://wa.me/19519016064
 understandable coherent paragraphs for an essay