Follow these tips to write excellent narrative essays
Follow these tips to write excellent narrative essays
Follow these tips to write excellent narrative essays
Narrative essays are basically essays that narrate a short story about an incident or episode; and how that particular event shaped an individual's life. Narrative essays are a common piece of academic writing that teachers often assign to the students, so that the latter can work on their writing skills and learn how to express their thoughts in a better way.
It is extremely important that the plot for a narrative essay should be set in the real world, that is, the narrative essay should be about some real world incident. Furthermore, you also have to explain the lesson that you learnt through that incident. Below are some basic writing tips that could prove to be helpful for you in attempting to write a narrative essay perfectly, so that you can score excellent marks in your academic assignment.
Prewriting is a must for better narrative writing You can never be a successful writer if you don't develop the habit of giving a thought to whatever you are writing, and then writing a rough draft of the same. Both of these tasks are crucial especially when you intend to write a narrative essay. You should thus give ample time to recalling the memories that you have about a particular incident, and then try and remember even the minutest of details about the incident, such as the year, season and the people involved.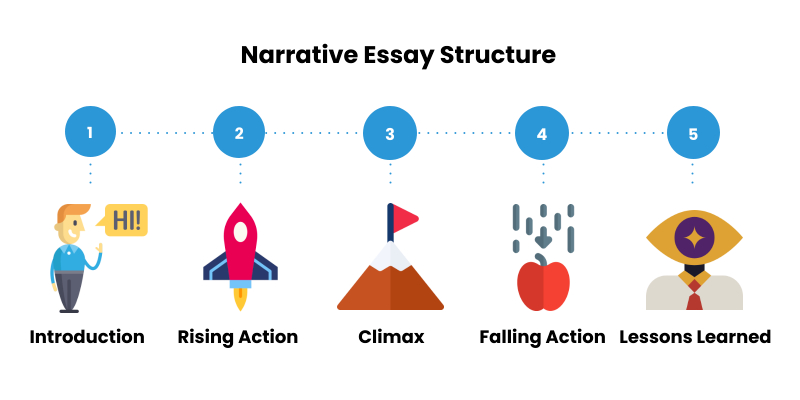 Follow these tips to write excellent narrative essays
Moreover, try and recall the setting and objects of the same as well. If you have an emotional connect with the topic of your narrative essay, you will find it much easier to attempt the task. You should also frame an outline of the essay, before you set out to start working on the original draft. This will really help you to keep the flow of the sequences on track while writing.
Use the first person word at all time A narrative essay requires you to narrate a story in your own words. Hence, use the first person word 'I' at all times, which is the most basic requirement. This will really help you in connecting with your readers. Give the readers a deep insight into the incident Let us take the example of a movie to understand this point better.
When you watch a movie, you have no prior knowledge about how the character's life so far has been, and who the character really is. But the director makes sure that you become aware of all this and much more when watch the film.
The same holds true for your narrative essay. Your readers are also unaware of your story, and hence it is your duty to give the right details to the readers, lest they get confused or don't connect with the story. Use vivid words to engage the readers in your story In certain kinds of writing such as a persuasive essay, you need to use simple language, since your main objective is to inform people about some issue.
Follow these tips to write excellent narrative essays
However, in a narrative essay, you have the full liberty to use vivid words to better describe the story. Creative language could engage the readers well into your story, and help you to achieve your objective. This article was written by an assignment expert from MakeMyAssignments.
For more such blogs and discussions on these kinds of burning issues, visit the blog section of the website and feel free to share your valuable opinions with us. We also provide excellent assignment writing services to students all across the globe to make sure that they score well in their exams and can find excellent jobs for themselves later on. Our assignment services are reliable and affordable, and will go a long way in helping you achieve your long term goals!
Follow these tips to write excellent narrative essays
Follow these tips to write excellent narrative essays
Welcome to academic-answers.net
Our professional essay writing service is
renowned for being the best there is.
Our Commitment:
*100% Original work, Authentic papers, 0% plagiarism
*Affordable prices and great discounts.
*24/7 Support
*Free revisions
*Quality work within your set deadline.
Whatsapp: +1(951)901-6064
https://wa.me/19519016064
Follow these tips to write excellent narrative essays