Reflective Essay on Business Communication
Reflective Essay on Business Communication
Reflective Essay on Business Communication
Introduction
Recent global business trends require a plan for sharing information that can be termed as effective business communication. Effective communication measures help to develop a successful business venture, and this comes under the topic of Reflective Essay writing. The commercial benefit is the only aim of effective business communication, which further fosters a good working relationship between business officials.
The idea behind this transfer and acquiring knowledge between lower and higher levels helps to evaluate the activities that take place between the organization. This essay reviews different sections of teamwork activities along with business communication. This reflective essay has gathered information from existing literary sources.
The main focus of this study is to evaluate and explain the appropriateness of effective business communication. Identification and explanation of working environment (highlighting its importance)
Week one: Ethical Communication
To maintain a communication standard, it is very important for the company to communicate ethically. For a business environment, ethical communication consists of an honest, transparent, democratic, and respectful transfer of communication. It is essential for business persons to practically analyze their situations and then make appropriate business plans accordingly.
Week two: Relationship between verbal and nonverbal communication
Verbal and nonverbal communications are those two parts of communication that help to define a person's behavior and choices and how are they connected with each other. In nonverbal communication, people communicate their words through physical actions and gestures to attach a meaning to the sentence. Accenting, complimenting, and regulating helps regulate verbal communication differently. Therefore, in business communication, people need to communicate in a manner with positive gestures.
Week three: Resumes and Employment letter
Written communication is also considered to be a necessary part of effective communication if a person wants to show his skills. Resumes and employment letters act as materials for human resource development if the company wants to hire people. Both these forms of written communication have done a great job in their field, replacing the verbal transformation of a word.
Reflective Essay on Business Communication
Week four: Audience for written academic documents
For the academic document writing, the individual needs to understand the needs and requirements of the audience. A communicator must ensure that the writing is completely based on a specific purpose and message along with relevant information.
Week five: Self Reflective Essay
A self-reflective essay is a method that helps an individual gain active understanding of one's own thinking. In a business environment, self-reflection is often conducted by some higher authority like director, chief executive operator, or managerial persons.
Week six: Structure of presentation
A business presentation should always be guided with a proper format and structure. It should revolve around the concept of the thesis of the statement of study. Thus, the material added should be compelling, questioning, and even appealing for the audience. The information provided to the audience should be clear enough presented, along with proper statistical data and examples.
Week seven: Importance of intercultural communication
There are many different purposes for which people travel and engage with the different people they meet. Constant interaction with different people helps to conduct intercultural communication.
Week eight: Organizational structure
Under the organizational structure, complexity, formalization, and centralization are the three main aspects for the organization to work efficiently. Complex communications often make the process for the individual difficult to reach, formal conversations play an important part for the business firm to work, and all these communications should be focused and structured well.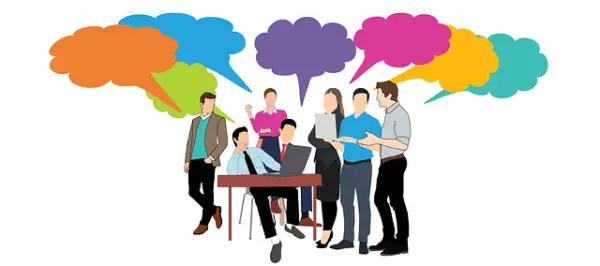 Reflective Essay on Business Communication
Week nine: Workgroup development
For a group to work efficiently, the organization needs to train its employees as per the different stages of learning. It helps in developing skills for a workgroup. All the members of the group must work accordingly to reach the goal of the project. They need to solve and plan the project together.
Week ten: Interpersonal skills to communicate with others
The three types of interpersonal skills that make your communication effective are passive, aggressive, and assertive. These interpersonal skills affect the communicative ability in a positive as well as negative manner.
Literature review As per the topics mentioned above for communication, interpersonal communication is an important one that helps an individual communicate effectively. Under a business environment, an individual first needs to present his/her point of views.
The art of solving problems, assertiveness, the ability for decision making, and negotiation with others are a key factor that helps an individual build good relationship with others. It is also important for a person to build self-controlling behavior as a person should be able to respond as per the needs of the situation. Aggressive behavior works only in some cases, whereas general behavior is the one which the people conduct in any situation.
Reflective Essay on Business Communication
For a business relationship to grow well, the approach for interpersonal ability is the key factor to communicate, convince, and regulate people for successful work. Future career aspirations Workgroup development and verbal and nonverbal communication are two of the most important factors that are related to a person's business career. In order to fulfill one's future aspirations, the individual must develop communicative ability to enhance his skills and knowledge.
Verbal communication gives the ability to convince people, interpret ideas, and provide a good business relationship. On the other hand, positive teamwork would be beneficial enough for the organization to achieve its goal. These two factors work coherently for one another to help the company achieve its goal with time. Verbal and nonverbal communications are very helpful to encourage and influence people to work.
Conclusion
Thus, it can be concluded from the above reflective essay that effective communication plays a huge role in ensuring success for the organization. Though there are many different types of communication, people choose the one as per the needs of the situation. It depends on the individual to choose the most compatible one. In your workplace, communication skills should be competent enough to produce great teamwork and outcome.
Verbal and nonverbal communications play an important role in effective communication at a workplace to generate successful results. For any kind of assignment help or essay writing guidance, makemyassignment provide help to students in this field. Our experts provide professional help to students so that they can complete their assignments on time and also achieve higher grades in academics.
Reflective Essay on Business Communication
Welcome to academic-answers.net
Our professional essay writing service is
renowned for being the best there is.
Our Commitment:
*100% Original work, Authentic papers, 0% plagiarism
*Affordable prices and great discounts.
*24/7 Support
*Free revisions
*Quality work within your set deadline.
Whatsapp: +1(951)901-6064
https://wa.me/19519016064
Reflective Essay on Business Communication