Magnet schools as they compare to Charter schools
Magnet schools as they compare to Charter schools
Public schools in the USA are run by the government but it does not fully fund them. They are mainly controlled by the department of education of their particular states. They receive funding from allocations from government funding, the state government funds, through lotteries and through income as well as property taxes. The local government also funds them through taxation.
Magnet school vs charter school
The Magnet schools
They are free public schools, both elementary and secondary, with a centralized approach to provide a robust experience to the students, capitalizing on their strengths and interests. These public schools don't bind students by their locations.
They were initially established to enable students to learn from a theme based curriculum that provides learning strategies which are effective for the students. It also provides a diverse environment for the learners as the schools attract students of different races, socio-economic and academic backgrounds. Entry to the school is sometimes by lottery but mostly through sitting an entrance exam, interview and audition.
Their curriculum is characterized by prowess in innovation, teamwork and cooperation and soft skills which are instilled during the learning course of the students. Both the basic and enhanced curricula enhance the special techniques setting the magnet schools. All these values make the students outstanding hence are desired by such people as academic writing services.
The educational themes of these schools include:-
Fine and performing arts
Science, Technology, Engineering, Mathematics(STEM)
Career and Technology Education
Immersion and non immersion world languages
Due to greater government funding, the teachers in magnet schools have the privilege of enjoying:
Higher salaries than other public programs although their benefits boil down to being the same.
Smaller classroom population as only a limited number of students is admitted into the school. This helps to ensure that the quality of education is maintained to be high and a strong teacher student relationship is created as they can focus on the individual students.
Greater student diversity as the students admitted into the schools come from all over the district
Better equipped classrooms with enough supply of books for themselves as well as those for the students.
Specialization in their areas of interest as they are allowed to venture in specific areas where they focus on.
Seniority over priority as only the most suited ones for the school are hired.
Examples of magnet schools in the USA include:
Thomas Jefferson high school for science and technology with
100% Graduation rate
100 College readiness
1786 Enrollment 9-12
Academic magnet high school with
100% Graduation rate
100 College readiness
664 Enrollment 9-12
Merrol Hyde magnet school with
100% Graduation rate
100 College readiness
225 Enrollment 9-12
The school for the talented and Gifted
100% Graduation rate
100 College readiness
276 Enrolment 9-12
Payton college preparatory high school
96% Graduation rate
95.8 College readiness
1073 Enrollment 9-12
Charter schools
These are tuition free government funded schools which receive state and local money based on the number of students enrolled in it and managed privately by the private institutions that establish them. Such groups include universities, churches and faith based organizations. Others are managed by organizations that manage other multiple institutions for profit reasons or to be entirely non profit.
Charter schools practice what advocates call charter bargain, whereby there is more freedom for more accountability, hence in exchange, they are exempted from state laws governing other traditional public schools. Charter schools are thereby bound by a charter which lays out the school mission, accountability requirements and academic laws.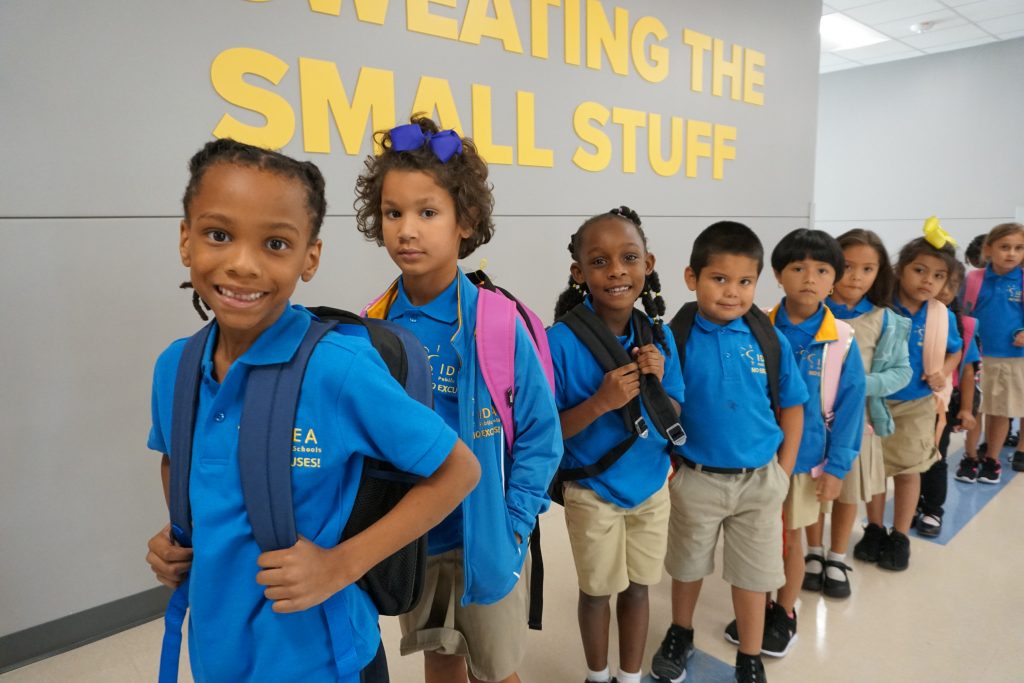 Also unlike the magnet schools, Charter schools can make their own policies concerning uniform or no uniform, school hours, firing and hiring of teachers. The day to day activities of the school are run by the school principal whereas at the macro level, the school is overseen by authorizers (who can be the state agency, university, or school district depending on the state) according to the National Association of Charter School Authorizer, separate from the school board.
These schools are also entitled to being accountable and meet the public's standards. An authorizer therefore has the power to shut the charter schools that fail to meet the set terms of the charter.
Charter schools educate a small part of the nation's public school students
Charter schools offer innovative and flexible academic programs for greater autonomy over curriculum.
Examples of charter schools in the USA:
BASIS Chandler with
100% Graduation rate
100 College readiness
267 Enrolment 9-12
Haas Hall Academy Bentonville
98% Graduation rate
94.0 College readiness
184 Enrolment 9-12
Signature School
100% Graduation rate
100 College readiness
366 Enrolment 9-12
BASIS Oro Valley
100% Graduation rate
100 College readiness
223 Enrolment 9-12
BASIS Peoria
100% Graduation rate
100 College readiness
223 Enrolment 9-12
The main differences between the two types of schools include
The magnet schools were first founded in the late 1960s whereas the charter schools were founded in the early 1990s
All teachers in the magnet schools, must be certified by the state yet those in charter schools do not necessarily have to be certified
The curriculum of the magnet schools focuses on STEM, arts and world languages whereas that of charter schools is more flexible
Entry into the magnet schools requires an individual to sit an entrance exam, to pass an interview as well as an audition whereas in charter schools, no entrance exam is given as qualification is through lottery and applications
Magnet schools receive more funding from the government than the charter schools
Magnet schools operate within existing public schools whereas charter schools exist as completely separate institutions
Magnet schools deal with a greater share of the national population of public school students than the charter schools
Since we have discussed the magnet and charter schools in depth, the choice of school to take your child entirely lies on the parent's preferences.
Magnet schools as they compare to Charter schools
Welcome to academic-answers.net
Our professional essay writing service is
renowned for being the best there is.
Our Commitment:
*100% Original work, Authentic papers, 0% plagiarism
*Affordable prices and great discounts.
*24/7 Support
*Free revisions
*Quality work within your set deadline.
Whatsapp: +1(951)901-6064
https://wa.me/19519016064
Magnet schools as they compare to Charter schools