25 Interesting Law Dissertation Topics to Work On
A List of Interesting Dissertation Topics for Law Students

25 Interesting Law Dissertation Topics to Work On
15 May, 2019
4484 views
Facebook
LinkedIn
Twitter
Are you facing challenges while writing a law dissertation? If yes, then you are also aware of the fact that how difficult it is to choose a good dissertation topic on the law. Choosing an ideal law dissertation topic is always a major challenge, especially when you are confused regarding your interest and have complexities in mind.
Well, you need to ask yourself some questions before you actually move ahead to pick an interesting topic.
Have a look at the following questions and try to answer them before start working on your dissertation writing.
Why are you writing a dissertation on the law?
In which field of law you have an interest?
How to plan to choose an interesting topic for a law dissertation?
If you are able to answer these questions, then you can move further and choose a topic to work upon.
So, here the experts at Global Assignment Help have suggested a list of 25 interesting law dissertation topics on 5 different laws that are: commercial law, trust law, criminal law, company law, and human rights and immigration law.
You can simply pick your field of interest and get an idea from the list of topics suggested below:
25 Most Ideal Law Dissertation Topics
Commercial Law Dissertation Topics
Commercial law is the body of law in which students study about the rights, and relations of a person and business engaged in commerce, trades, and sales. This law deals with both issues of private and public law. An intriguing list of commercial law dissertation topics are listed below:
What are the successes and failures of anti-corruption legislation in the UK?
Financial corruption under international commercial law.
How does international commercial law describe overseas investments in energy projects?
A review of the requisites for a career in commercial law.
Bills of landing through international commercial law.
Trust Law Dissertation Topics
Trust law requires a settler to meet three certain conditions that are the object, subject matter, and intention. It is a relationship where the property is held by one party for the benefit of other parties. Some interesting dissertation topic on trust law are listed below:
What is the impact of the decision of Harrison v/s Gibson on the law of clarity intention?
From law to faith: Letting go of secret trusts.
To investigate the attitude of courts to trusts supporting political agendas.
What is the role and impact of trust law as asset portioning and fiduciary governance?
A critical review of literature – Should the assumption of resulting trusts and progression end up in the modern age?
NOTE: These topics can also be helpful for you in writing an assignment and if you need help regarding these topics or want to know the facts, then you may seek criminal law assignment help from the experts.
Criminal Law Dissertation Topics
It can be defined as a system of law dealing with the punishment of criminals. The criminal evidence can be presented in various forms to prove and establish crimes. A wide range of topics can be framed in this subject area. To help you with your dissertation writing, some topics are listed below:
How does international criminal law has been significantly influenced by wars or terrors?
Understand and establish the relationship between human rights and Islamic criminal law.
To investigate the issues that are associated with the identification distribution, extent, and nature of the crime.
To investigate the right of victims in the internal criminal courts.
What are the modern approaches efficacy to the definition of intention in international criminal law?
Company Law Dissertation Topics:
It is also known as the law of business associations. It is the body of law that deals with different business organizations and their registrations, formation, incorporation, governance, and administration. Some good topic suggestion on business law are discussed below:
To investigate the important aspects of corporate law.
What is the importance of non-executive directors in the corporate legal system?
A critical review of company law and its effects on the members, workers, and their creditors.
Theories and realities – Identifying disparities in corporate governance. To study about the corporate governance practices regarding the concern of minority stakeholders.
Human Rights and Immigration Law Dissertation Topics
The main objective of these laws is to ensure and protect human rights at the regional, domestic, and international level. Some ideal topics in this area are listed below:
A critical analysis of immigration policy in the UK since 1990.
The right of prisoners to vote under European law of human rights.
A historical analysis of immigration and asylum policies in Britain.
A critical analysis on the right to private life and family for the failed asylum seekers.
The impact of UK immigration policies on the education industry.
Since each and every topic discussed above is relevant and will definitely provide you enough scope to do the research. These law dissertation topics will help you draw ideas and will assist you to come up with an informative and innovative dissertation.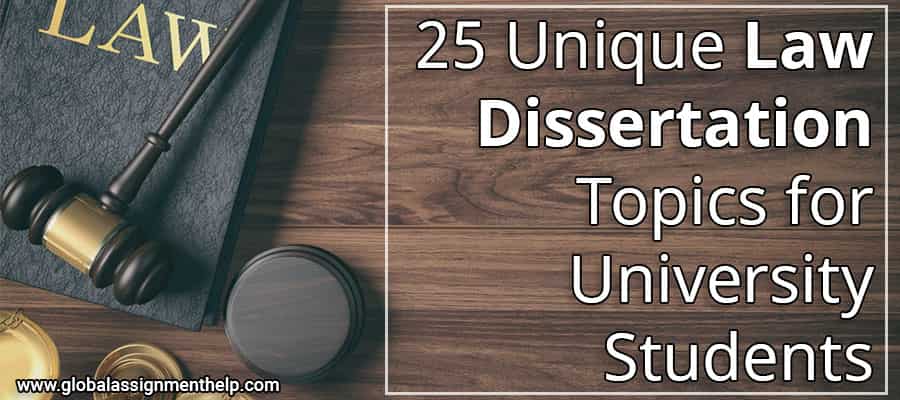 Welcome to academic-answers.net
Our professional essay writing service is
renowned for being the best there is.
Our Commitment:
*100% Original work, Authentic papers, 0% plagiarism
*Affordable prices and great discounts.
*24/7 Support
*Free revisions
*Quality work within your set deadline.
Whatsapp: +1(951)901-6064
https://wa.me/19519016064
25 Interesting Law Dissertation Topics to Work On