Planning to include free writing into your curriculum? Learn more about its benefits first.
Planning to include free writing into your curriculum? Learn more about its benefits first.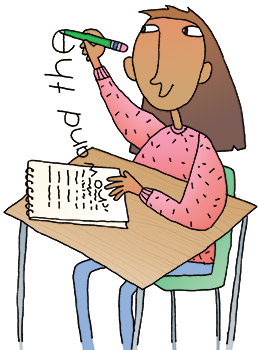 Writing is one task that benefits students in more ways than one. Not only does it help students to score good marks in their academic life, but it also greatly helps them later on in their professional life. Unfortunately, not all students have such mastery over their writing skills, and consequently they find themselves unable to articulate their thoughts well.
Educationists strongly recommend free writing to enhance the writing skills of these students. Thus practice may not seem to be very effective at the start, but once students start to get the hang of it, they themselves start to notice significant improvements in their work. As a teacher, do you also plan to include free writing into your curriculum?
Read on to find out more about the benefits of free writing. It helps students to develop their writing skills A lot of students do not write or do not like to write, simply because they lack confidence. They believe that they will never be able to come up with the perfect first line, or that their write-up will be full of grammatical and structural errors.
As a teacher, it is your duty to motivate them to write. Let the students know that all writers make mistakes in the early stages of writing, and that the key to success is to remain focused on writing without caring so much about these mistakes. This is what free writing is, and slowly and gradually, writing skills do improve. Free writing enables students to improve their critical writing In order to lead a successful life, every person must have intelligence, and should be easily able to distinguish between what is right and what is wrong.
Free writing can help students in both these aspects. While students practice free writing, they begin to discover themselves, since they start to write about social issues, their views on present situations, and about themselves. Thus, they develop the habit of critical thinking over a period of time. It helps students to overcome their writer's block A lot of your students may possess the flair for writing, but at times, they would fail to come up with excellent pieces of writing.
One major reason behind this could be a writer's block, which does affect every writer at some point or the other. Free writing allows an individual to overcome the writer's block, since he or she can write freely without being too critical of one's own writing while practicing free writing. Thus, individuals are in a better position to get into the groove, and naturally, new and innovate ideas start to flood the mind.
This article was written by an assignment expert from MakeMyAssignments. For more such blogs and discussions on these kinds of burning issues, visit the blog section of the website and feel free to share your valuable opinions with us. We also provide excellent assignment writing services to students all across the globe to make sure that they score well in their exams and can find excellent jobs for themselves later on. Our assignment services are reliable and affordable, and will go a long way in helping you achieve your long term goals!
Planning to include free writing into your curriculum? Learn more about its benefits first.
Welcome to academic-answers.net
Our professional essay writing service is
renowned for being the best there is.
Our Commitment:
*100% Original work, Authentic papers, 0% plagiarism
*Affordable prices and great discounts.
*24/7 Support
*Free revisions
*Quality work within your set deadline.
Whatsapp: +1(951)901-6064
https://wa.me/19519016064
Planning to include free writing into your curriculum? Learn more about its benefits first.