Dramatic Irony As a Literary Style: Best Explained
Dramatic irony
Dramatic irony is an important stylistic device that is commonly found in plays, movies, theaters, and sometimes in poetry. Storytellers use this irony as a useful plot device for creating situations in which the audience knows more about the situations, the causes of conflicts, and their resolutions before the leading characters or actors. That is why readers observe that the speech of actors takes on unusual meanings.
Examples of Dramatic Irony
Dramatic irony is one of the most effective types of irony because it makes the audience feel helpless to change the outcome. There are many examples of dramatic irony in literature, movies, television and fairy tales. Some examples include:
A woman thinks her boyfriend is acting strangely because he's about to propose, but the audience knows that he is planning to run away with another woman, intensifying emotions.
In a scary movie, the character goes into a house they think is empty, but the audience knows the killer is in the house. This increases the suspense.
Sometimes a person is in disguise and the other character talks with him as if he is someone else. Since this is known by the audience, it adds to the humor of the dialogue.
How Dramatic Irony Relates to Other Types of Irony
Irony is a broad term that encompasses quite a few types of irony, which we describe below. To better understand dramatic irony, it's helpful to compare it briefly with the other types of irony, each of which has a separate meaning and uses.
Dramatic Irony vs. Irony
Generally speaking, irony is a disconnect between appearance and reality which points toward a greater insight. Aristotle described irony in loftier terms as a dissembling toward the inner core of truth.
Dramatic irony fits under this broader definition, since it involves a character having a disconnect between what they perceive (which is an incomplete version of the story) and reality (about which the audience, and perhaps other characters, have knowledge).
Therefore, every example of dramatic irony is also an example of irony, but not every example of irony is an example of dramatic irony.
Dramatic Irony vs. Verbal Irony
Verbal irony is the most common type of irony, in which what one says is different from what one means. The definition of verbal irony is often mistakenly used in place of a more general definition of irony because, in a way, it is the most direct representation of the quality that unites all the different kinds of irony: a disconnect between perception and reality.
Unlike other forms of irony, verbal irony can be communicated by tone only, as when someone wearily says What lovely weather we're having on a dark and rainy day. In that case, the speaker's true meaning would be clear to his listeners. But a subtler form of verbal irony can also serve as an example of dramatic irony.
For example, let's say two people are leaving the theater after seeing the matinee of an awful play. A third person, who is on his way to see the evening show, asks them how it was; they glance at each other, and politely tell the stranger that the play was very interesting.
This is an example of subtle verbal irony, but since only the two who have already seen the play know how bad it was—and only they understand the true meaning of their words—it's also an example of dramatic irony.
Dramatic Irony vs. Situational Irony
Another common form of irony is situational irony, which is another useful and common plot device. An event in a work of literature can be said to be an example of situational irony if the outcome of a series of actions turns out markedly differently than expected—a paradoxical or perverse outcome, rather than simply a surprising or interesting one. This form, too, can overlap with dramatic irony.
The end of Romeo and Juliet is one example of situational irony overlapping with dramatic irony: at the play's end, Romeo drinks poison, intending to join Juliet in death, but (since she only appears to be dead) his action results in him abandoning Juliet in life. That's an example of situational irony. But since the audience already knows what Romeo doesn't when they watch him drink poison (i.e., they know that Juliet isn't really dead), the scene is also an example of dramatic irony.
Other Forms of Irony
Less common forms of irony include cosmic irony, in which fateful or divine forces continually foil a character's strivings; historical irony, in which a historical event turns out to have a very different meaning in hindsight; and Socratic irony, a conversational technique described in Plato's dialogues, in which a speaker feigns ignorance in order to trick their interlocutor into revealing the flaws in his or her own argument.
These, too, can serve as examples of dramatic irony under the right circumstances—specifically, whenever the audience or reader understands more than the character or characters involved.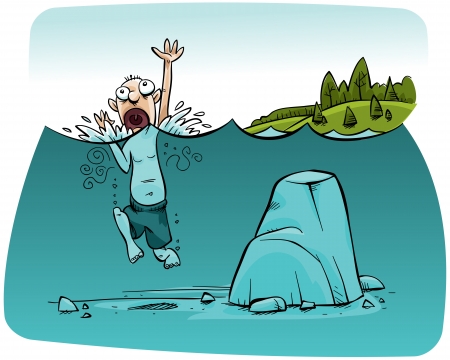 Examples of Dramatic Irony in Horror Films
Dramatic irony appears frequently in horror movies, because it lends such stories an extra measure of painful suspense.
Dramatic Irony in Night of the Living Dead
At the end of the film, Ben, the protagonist, is the only human left alive in the house after a zombie attack. But when the police arrive looking for survivors and see Ben in the window, they assume he is a ghoul and shoot him on sight. Only the audience understands the meaning of their action; the police themselves remain ignorant.
Dramatic Irony in Halloween
In this beloved classic, a killer hides in the Wallace house and murders every teenager that enters, one by one. The audience quickly realizes that anyone who enters the house is doomed, but the kids themselves suspect nothing, and walk naïvely into the trap. Their ignorance, coupled with the audience's knowledge of their certain deaths, creates an extended, nail-biting sense of dramatic irony.
Dramatic Irony in A Nightmare on Elm Street
Throughout this classic film, adults laughingly dismiss a girl named Nancy's claim that a killer is pursuing her in her sleep, but the audience has seen the killer at work, and knows that the violence he does in dreams leaves tangible marks in real life—so the adults' blithe attitudes are tinged with dramatic irony for the audience.
Why Do Writers Use Dramatic Irony?
Dramatic irony can serve a wide variety of purposes. Structurally, it is an excellent tool in both tragedy and comedy: it can create suspense or sharpen a story's emotional appeal, but it can also lead to a series of comical misunderstandings.
It can make the audience feel as though they are in a privileged position of knowledge or understanding, compared to the ignorance of the characters, but it can also make them feel helpless as they watch events roll to their inevitable and tragic conclusion. More generally, dramatic irony shows that all perspectives are partial and limited, and that nothing is ever as it seems.
Welcome to academic-answers.net
Our professional essay writing service is
renowned for being the best there is.
Our Commitment:
*100% Original work, Authentic papers, 0% plagiarism
*Affordable prices and great discounts.
*24/7 Support
*Free revisions
*Quality work within your set deadline.
Whatsapp: +1(951)901-6064
https://wa.me/19519016064